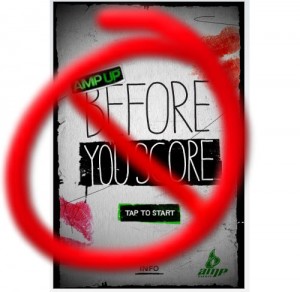 UPDATE @ end of this post
Did you see that Pepsi Co. has released an iPhone app for its Amp energy drink? It's called … wait for it … Amp Up Before You Score.  (I intentionally did not link to the app, as I don't want to drive traffic its way.)
In theory, having an app (not this one) for your brand could be smart, maybe even cool. But when you see what the app does, you may change your mind.
InventorSpot describes the offensive app in this way:
Here's how it works:

1. Identify Her Type: Got your eye on a girl, and aren't sure how to get started? Pick out her profile, flip the card, and study up quick with a cheatsheet on the stuff she's into, with lists, links and some surefire opening lines. (Surefire to what, we won't say.)

2. Keep a List: Get lucky? Add her to your Brag List. You can include a name, date and whatever details you remember.

3. Brag: You got it? Flaunt it. Keep your buddies in the loop on email, Facebook or Twitter. Here's who you get:

Artist Aspiring Actress Athlete Bookworm Businesswoman Celebrity Cougar Dancer Foreign Exchange Student Goth Girl Indie Rock Girl Married Military Girl Nerd Out-Of-Your-League Girl Political Girl Princess Punk Rock Girl Rebound Girl Sorority Girl Treehugger Trouble Twins Women's Studies Major
If you have an iPhone or iPod Touch, take a look at the app. And see what people are saying about "Amp Up Before You Score." Make up your own mind about the app. But for me, I am disappointed in PepsiCo. I expected better from a company like this.
Put in Twitter terminology, it's a major #PepsiFail.
[Hat tip to Liz Pullen for calling my attention to this iPhone app.]
UPDATE as of 3:00pm on October 12:
Just a few moments ago, the Twitter account for AMP (@AMPwhatsnext) posted an apology for the "Amp Up Before You Score" app. As far as 140-character apologies go, it's a good one. I've already sent AMP my feedback.