[Today is my oldest son Kyle's 25th birthday. This post is a tribute to Kyle's life.]
"How many children do you have?"
Such a simple question to start a conversation. Or is it? In the past (almost) three years, that seemingly simple question has caused me to fight back tears as I determine how to answer it. Do I say "three" or "four"? You see, in 2011, early in the morning of September 29th, our oldest son died unexpectedly.
My husband Kevin was out of town on a business trip. I woke up that morning and saw more than 20 missed calls and texts on my cellphone, which I left on Silent overnight.
My heart sank.
I listened to the one lone voice mail, which was from East Alabama Medical Center asking me to call immediately. A million things rushed through my mind in that instant, but I knew whatever it was had to do our son Kyle, a graduating senior at Auburn University.
I sank into the footstool of my favorite chair in the living room and called the hospital back, not really knowing what I was about to learn, yet fearing the worst. Upon finally reaching the nurse who had called me, she said that my husband was on the phone with "the doctor" and that Kevin would call me back after he their conversation was done. I swear I didn't move a muscle until I saw Kevin's face show up on the caller ID on my phone.
"Hey. It's about Kyle. He had a seizure. He didn't make it."
I was stunned; Kyle was a healthy 22-year-old college senior. I have no idea what I said back to Kevin or how long we talked, but I do know he told me he'd leave Miami immediately and drive back to our home in Lakeland, FL, about three hours away.
How long I sat on the edge of my green footstool, I have no clue. But then the bible verse of the day app on my phone messaged me with Proverbs 3:5-6.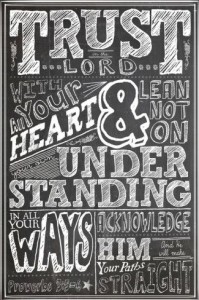 I found out later that Kevin had read that same verse just moments before calling the hospital.  We'll come back to those verses in a moment.
The next 24 hours were a total blur. Telling Kyle's sister and brothers what had happened, given the limited knowledge about HOW he died, was the hardest thing I've ever done in my entire life. But I knew I had to tell them right away — without Kevin's help, before they found out via social media or a well-meaning call or text from one of Kyle's friends.
One thing that Sam said to me echoes in my head almost every day. "I don't even remember the last time I talked to him."
Kevin and I made all the requisite calls to family right away, often asking someone to share the message with others. These calls were so hard to make, trying to console family members while we were so deep in our own pain.
Then I put a message on my Facebook wall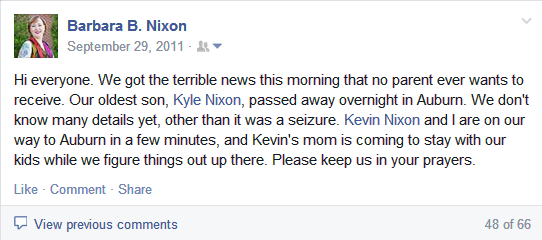 Hundreds of messages of support through Facebook, phone calls and texts (and a few unexpected and welcomed face-to-face visits) helped me through these next hours.
A week or so after he died, we drove to Auburn for Kyle's memorial service. I sat in the back seat and wrote. A lot. And I've spent time writing during many sleepless nights; I don't want to forget a thing about my life with Kyle in it.
So this flood of memories led me to think about what I've learned through this experience:
If you're a parent, be sure to get to know the friends of your children, whatever their age. Kyle's friends have been a constant support for me during this last year.
Social media rocks. It really does. I can't imagine how I would have gotten through these long months without being able to connect with friends that I know in real life, and those I don't, immediately.
Become an organ donor. I was amazed at how many people will have their lives changed because Kyle chose to be an organ donor. We learned that it's 75 or more.
If you have younger brothers or sisters, KEEP IN TOUCH WITH THEM. (I wrote this in all caps because I was really yelling.) The hardest thing for me right now is hearing Kyle's brothers and sister say "I can't remember the last time I talked to him." It is tearing me up inside. I know that college is a time to become independent. But that doesn't mean that you have to totally break free from your family except for the occasional texts asking for a deposit on your debit card or updates on the football game.
Proverbs 3:5-6 is now a bible verse that I meditate on daily. We must trust God. It's not up to us when one of us is called to Heaven. God chooses on His own time. And I pray that at some point I understand why He chose now to be Kyle's time.
Getting back to how I answer the "how many children do you have?" question.
I have four children.