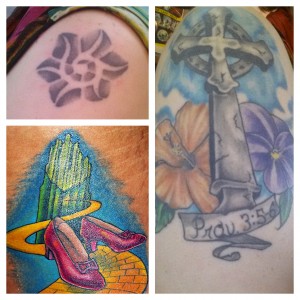 Yesterday afternoon, I was excited to see that HuffPost Live wanted to interview me. I thought it would probably be about my experiences in the Genghis Grill Health Kwest debacle, since that story had just been featured on PR Daily, but no . . . the producer wanted to know if I had thoughts to share on getting a tattoo "later in life."
Later in life? Ouch. Yes, I know I am 50 years old (or a half-century, as I was reminded by one of my kiddos). But I still barely think of myself as being middle-aged,  and being middle-aged is way younger than "later in life," isn't it?
Anyhow . . .
Here's the advice I shared for anyone, regardless of age, who is considering getting a tattoo:
Think long and hard about what you want, because your tattoo should be meaningful to you. It took me several years to decide what my first tattoo would be; I decided on the Borneo Rose that you see in the upper left photo. It very closely resembles a doodle I'd been making for most of my life. Once I got the first one, I couldn't wait for the second. My oldest son Kyle helped me find and tweak the design of my Wizard of Oz tattoo, which I have on my right leg. And the third tattoo is the most meaningful of all; it's a memorial tattoo for Kyle, who passed away unexpectedly in 2011 as a graduating senior at Auburn University. Kyle had a cross tattoo on his arm, and my husband, middle son James and I all decided to get memorial tattoos in his memory. Every day when I see this Celtic cross, I can physically feel Kyle's hand on my arm comforting me.
Work with an artist whose work you have seen in person and that you trust. Each of my tattoos are done by different artists in different states; I got recommendations from people I knew.
Get a temporary tattoo of your design before getting it permanently inked on your body. Still unsure if you really want a tattoo? Or know you want one, but can't decide on size or location? Mock up your design and print it with your inkjet printer on temporary tattoo paper. Try it out in different sizes and locations before you make a final decision.
And place your tattoo so you can choose who sees it. Where you place your tattoo is totally up to you. But for me, I needed to be sure that I could either show or cover my tattoos, depending on who I am with or the situation I am in.
The 20-minute video from HuffPost Live is below; my part of the video starts about 5:50 in and lasts for about 5 minutes:
What advice would YOU give people who are considering their first tattoos?