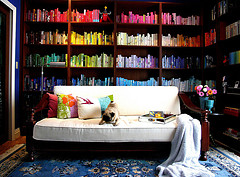 Review an article on public relations that appears in a peer-reviewed journal. Your review is due by midnight on Thursday, October 23. Recommended journals include (but aren't limited to):
Journal of Public Relations Research
Public Relations Review
Your 500-word minimum review could take the following form:
What did you learn from reading the article?
What surprised you in the article?
What do you want to know more about, now that you've read the article?
How is the information in the article relevant to the corporation you've chosen for your final project?
It is acceptable to use first person for this review. However, even though you are writing a blog post, be sure to cite your source–in text as well as in your reference section–in proper APA format. (Using Citation Machine might be helpful.) This assignment is worth 100 of your 1000 points in PRCA 3331.
Questions? You know where to find me . . .
Photo Credit: http://www.flickr.com/photos/santos/1704875109/