You'd think that businesses, especially large ones that have a social media presence, would realize by now that social media is 24/7. Apparently, Papa John's didn't get the memo.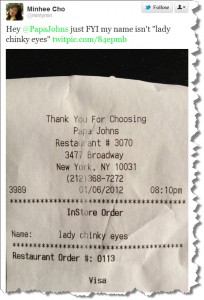 Minhee Cho, Communication Manager at ProPublica, posted her receipt from her last night's pizza order at about noon today. Retweets and comments about her treatment from this Papa John's employee started swirling.
And they swirled for nearly seven hours before Papa John's responded via Twitter. Luckily, the Papa John's (tardy) response is an appropriate one, at least in my book.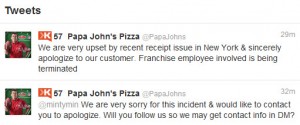 But here's the thing: I wonder how many people will continue to retweet Ms. Cho's original tweet, and never even know that Papa John's apologized and explained its course of action? Here's a link to a Twitter search for #papajohns OR @papajohns.
Something to think about, especially for brands with broad name recognition.