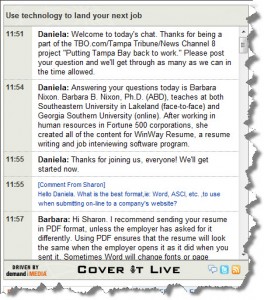 Today I was invited by the Tampa Tribune and TBO.com to share my expertise regarding social media and the job search. Here's a transcript of the live chat we held at noon, using CoverItLive.
Many thanks to Chris Taylor, AKA @TBOChris, for inviting me to the studio, to Daniela for moderating the chat, and to my longtime Twitter friend & Tampa Tribune writer Jeff Houck (@JeffHouck) for inviting me to lunch at The Taco Bus after the chat session.
| | | |
| --- | --- | --- |
| | Use technology to land your next job | |
11:51

Daniela:

Welcome to today's chat. Thanks for being a part of the TBO.com/Tampa Tribune/News Channel 8 project "Putting Tampa Bay back to work." Please post your question and we'll get through as many as we can in the time allowed.
11:55

Daniela:

Thanks for joining us, everyone! We'll get started now.
11:55

[Comment From Sharon]

Hello Daniela. What is the best format,ie: Word, ASCI, etc. ,to use when submitting on-line to a company's website?
11:57

Barbara:

Hi Sharon. I recommend sending your resume in PDF format, unless the employer has asked for it differently. Using PDF ensures that the resume will look the same when the employer opens it as it did when you sent it. Sometimes Word will change fonts or page breaks without warning, making your resume look odd. With the latest version of Word, you can easily Save As PDF. And ALWAYS open the PDF yourself, preferably from a different computer, for your own quality assurance.
11:57

[Comment From Andrea]

How can I best use Twitter to land a job?
11:58

Barbara:

Hi Andrea. There are a few ways you can use Twitter. Let me talk about a few of them for you.
11:59

Barbara:

One thing I highly recommend is for you to start following pros in the field in which you wish to work. See what they're writing about. Respond to them. If they post links to their blogs, comment on the blogs.
12:00

How did you find out about this chat?

TBO.com homepage

News Channel 8

Tampa Tribune

Facebook

Twitter

Other
12:00

Barbara:

Another idea for using Twitter in the job search is to post a link to your resume. (I recommend creating a profile at LinkedIn, and link to that rather than your resume itself — just so that you can keep your address, phone, e-mail private).
12:01

Barbara:

You can connect Twitter to LinkedIn, so that your tweets also show up in LinkedIn, but do this judiciously. Most people don't want EVERYTHING they tweet to appear on their professional profiles in LinkedIn.
12:03

Barbara:

If you're a blogger, be sure to post links to your blog posts to Twitter — that is, if you think theese posts will help create a professional appearance for you in the eyes of a potential employer.
12:04

[Comment From Lauren]

If I were to sign up for ONE social site to try to get a job- which one do you recommend?
12:04

Daniela:

Thanks for the questions, folks. Keep 'em coming!
12:05

Barbara:

Hi Lauren. The one site I recommend more than any others for job searching is LinkedIn. Not only can you post your own profile/resume there, you can easily network with others. Your LinkedIn profile can be longer than the traditional, one-page resume.
12:05

Have you been using LinkedIn in your job search

Yes, I use it all the time.

No, I don't even know what it is.

Sort of.. I created an account but don't use it.
12:08

Barbara:

Lauren — here's a link to a blog post I wrote earlier this year about using LinkedIn in the job search. The post was aimed at college students and recent grads, but others can benefit from LinkedIn as well. And feel free to connect with me at LinkedIn.
12:08

[Comment From Sharon]

Is this the same answers for Facebook, too?
12:09

Barbara:

Hi again, Sharon. Facebook… this can be both a blessing and a burden for job seekers.
12:12

Barbara:

Unless your Facebook profile is marked as Private to all but your closest, in-real-life friends, you'll want to scour through everything you have out there and think "how could a potential employer possibly misinterpret this?"   Photos are especially problematic in Facebook. Just think about how much personal information you are showing a potential employer simply through what you've chosen to post in your photos. Most of this information (children, hobbies, night life) has no place in a hiring decision… yet it may be in the employer's mind when/if you make it to an interview.

Also think about any Facebook groups that you have joined, perhaps on a whim. Some of them have names that are not conducive to making a professional impression.
12:15

Daniela:

Every week, we ask people to send questions to us so we can ask the expert.

David asked: I'm 49-year old owner of a small environmental consulting company that is barely afloat. I've been looking for a job to supplement my income. How can I use technology and social media to find something?
12:16

Daniela:

Barbara is working on this question right now.
12:17

Barbara:

Hi David.  If you've not joined LinkedIn yet, you should consider doing it now. Besides being able to post your profile there, you can also go into the Answers area and answer questions in your field. This will help promote you as an expert in your field.
12:18

[Comment From Sharon]

Good question from David!! I'm a newbie to all these social media sites!
12:19

Barbara:

Also, David, if you don't yet have a blog, you might want to consider starting one. You could write something every week or so about a topic in your field.
12:21

Daniela:

Another one of our users, Melanie, asked this question: Where do you go online to find openings for truck drivers?
12:24

Barbara:

Hi Melanie. Though I don't have a specific site that I would recommend for seeking truck driver positions, I have a contact in the field who I can ask. I'll get back with you via e-mail about this. If you're a Twitter user, you might also want to connect with @TruckerDesiree. She's a good source, especially for women who are interested in joining the trucking industry.
12:26

[Comment From Sharon]

Do HR interviewers check all these sites when considering you for an interview? I'm not in a degreed professional field…I'm in Customer Service ,Call Center worker. Will this technology benefit me too??
12:28

Barbara:

Hi Sharon. Yes, you WILL be Googled. (Just think, a few years ago, that wasn't even a word.) Employers will check online to see what they can find about you before determining whether to call you in for an interview. Your goal should be to have any information they find about you to be positive and professional. The more you write in a blog, add to LinkedIn, etc., the better it will be for you — especially if you have a common first and last name.
12:30

[Comment From Sheila Surla]

I'm not exactly a professional, I have done administrative work and it doesn't have to be tied to any particular field. How do I market myself and set myself apart from the 100's of others who do what I do?
12:34

Barbara:

Hi Sheila. If you're a top-notch administrative assistant, there is a market for you. Try to think about which two or three fields interest you most, and focus your efforts there. I've mentioned LinkedIn here several times, and I'll mention it again. Create a profile for yourself there, and go to the Answers area. See what questions people have that you can help with. Make a name for yourself there, and who knows, you may land a role as someone's Virtual Assistant.
12:35

Daniela:

Martha, another one of our users, asked this: How do you use technology to find out when job fairs will be happening?
12:36

Barbara:

Hi Martha. If you're looking for job fairs in your area, Google will help you more than almost anything. Type in "job fair" and the name of the city where you're seeking employment. If you're here in the Tampa Bay area, check out TBO.com or read the Sunday Tribune classifieds section. You may come across some ads for job fairs there.
12:36

Do you have a twitter account?

Yes, and I use it all the time.

Yes, but I never use it.

No, I need to create one.

No, and I don't plan on creating one.
12:37

[Comment From Sheila Surla]

To add onto my previous question, I have no schooling for what I do, I've basically been picking up skills along my career path. I think this hurts me through my resume, will linkedin help show my skills better?
12:38

Barbara:

Hi again, Sheila. It sounds like you might have a traditional, chronological resume. You may want to consider using a functional resume instead.

The functional format organizes your skills and accomplishments into job task groupings that support your stated career objective. If you must pull together certain skills and accomplishments from a variety of past experiences to show your preparation for what you want to do in the future, then the functional format is probably for you. People who have been out of the workplace for several years —  for example, those people who choose to stay at home to raise a family while the children are young — benefit greatly from this format. It draws attention to what you did rather than when you did it. Another advantage of this format is that it allows you greater flexibility in presenting skills gained through personal experience or through low-paying or volunteer jobs.
12:42

Daniela:

We're about to start wrapping up the chat, but Barbara's going to give you all a few more helpful tidbits before we leave.
12:43

Barbara:

If you're looking for some more advice on resume writing, you may want to take a look at Resumes That Resonate, a post I wrote at my Public Relations Matters blog. One of the keys I mention in that blog post is to pepper your resume with key words / terms that an employer might be looking for. And if you are writing a resume for a position where you know what the job description is, use as much of the specific terminology in the description as you reasonably can. It will help make you look tailored for the position.
12:44

[Comment From Sheila Surla]

I'm on the linkedin website now and it's pulled up a bunch of people I've maybe just e-mailed about a job, should I go ahead and connect to them?
12:44

[Comment From Sharon]

Thank you, Barbara. You have given extremely good advice today.
12:44

Daniela:

Barbara's going to take this last question from Sheila, then she'll give you her follow-up before we sign off.
12:45

Daniela:

*follow-up information
12:46

Barbara:

Hi again Sheila. Absolutely… when you send the connection request to potential employers in LinkedIn, be sure to mention in the e-mail that you're seeking employment with the company — rather than using the generic e-mail that LinkedIn provides. It's always smart to provide context when you are asking to connect in LinkedIn (or elsewhere).
12:48

Daniela:

Thank you all out there for participating! And thank you, Barbara, for being our resident expert today. Join us next Wednesday at noon for the next installement of "Putting Tampa Bay Back To Work." In the meantime, good luck to all of you on your job search.
12:49

[Comment From Andrea]

Thank you!!
12:50

[Comment From Sharon]

Thank you. Good bye all —and good luck!!