UPDATE: Since I originally posted this, I've learned that Domino's is taking steps to fire the two employees in the video.
AUDIO UPDATE: Neville Hobson posted this concise audio about the fiasco:


It was a relatively calm morning, both in my home and in the Twittersphere. And then I saw this message from Adam Cohen: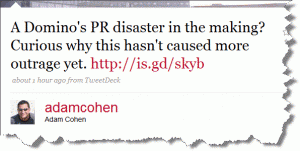 As a former Domino's employee, a current Domino's customer AND a professor of public relations, I felt compelled to see what Adam found. Here it is, all its "glory":
At about 10:20 this morning, I went to Domino's website. After a bit of poking around, I found their online contact form. This is what I sent to them:
I teach public relations at Georgia Southern University. Are you aware of this video titled "Disgusting Dominos People" on YouTube: http://www.youtube.com/watch?v=ZFxqC8hZ_xs ? Having worked at a Domino's in Auburn (AL) in college, I was appalled at what is shown in the video. Is anything being done to address this? There's a huge discussion going on about the topic on Twitter now, too: http://search.twitter.com/search?q=domino . If possible, I'd like to know what your company is doing to combat this, so I can share it with my PR students.

Thank you,

Barbara Nixon, Ph.D. (ABD) :: Georgia Southern University
I am curious to see what reaction Domino's has to this video. This might be a good case study in crisis public relations.
UPDATE: April 14, 2009, 11:00 AM
Apparently another blogger has heard back from Tim McIntyre (in Corporate Communications at Domino's).  See "Video: Let the Domino's Appall" for his response, which says in part:
We just got off the phone with the franchise owner, who was absolutely dumbfounded by this. He has told us that he will be terminating their employment effective immediately.
Will I stop ordering from Domino's? No, I won't stop. I would like to know that these two people no longer work for the company. Domino's is a company I trust. I just hope that they're paying attention what people are saying about the company now.
Stay tuned.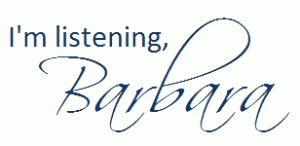 (PS: Thanks, Adam, for calling this to my attention. I've used part of original tweet as the title to this blog post.)