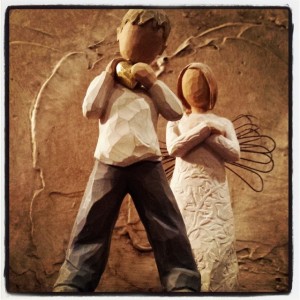 It's been almost two and a half years since I heard these horrific words from my husband.
"It's about Kyle. He had a seizure. He didn't make it."
Even typing those words brings tears to my eyes. (It's hard to type now.)
How on earth can a perfectly healthy 22-year-old graduating senior just collapse and die? (Medically speaking, we found out that he had acute heart failure, which basically tells us nothing.)
So many of my friends tell me that I am strong, or that they can't imagine how to go on after something like this. Well, I go on because I must. I have a loving husband and three other children that mean the world to me.
But some days — actually, nights — I totally melt down. I had one of those nights this week. It started with seeing something adorable and (usually) innocuous: a photo of the toddler child of a friend of Kyle's asleep on his dad on the sofa. I smiled at the sweet photo, and then . . .
One tear slipped down my cheek.
One turned to ten, then to thousands.
I posted a short update on Facebook.
Immediately, friends started supporting me. I can't tell you how much this helps. It's a ginormous amount. (Some have asked why I don't call someone when I feel like this. Simple answer: When I cry, I cannot speak. At all.)
I escaped to my bedroom and didn't even make it the whole way onto my bed. I looked like this angel statue.
And this time, my tears weren't silent. They were LOUD and searing on my cheeks. They felt like acid. I couldn't stop them, and I really didn't even want to. I emptied the rest of my tissue box and a whole travel pack of tissues. I have no idea how long I was in this state, but I guess it was as long as I needed to be. I slept hard that night, thank goodness.
The next morning? I had seriously puffy eyelids (I'll spare you that picture), and I went on.