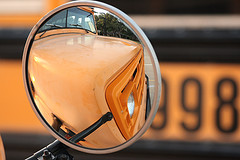 This morning on Twitter, I received a tweet from Todd Defren (of Social Media News Release fame) with a link to a free e-book: Word of Mouth Manual II, by Dave Balter, founder and CEO of BzzAgent.
Imagine you're back on the school bus, on the way to your high school.  Towards the back of the bus, the "cool kids" are eagerly poring over

a hidden object

.  You overhear one of them saying, "It's really expensive, but I figured out how to get a free one."
Sharing the e-book this way is word of mouth marketing at its finest. So . . . if you're interested in the topic of word of mouth marketing, download and read this free e-book. Share your thoughts here.
Photo Credit: Spot Mirror, uploaded to Flickr by daveham