As I prepare to move from Northwest Arkansas to Northeast Wisconsin, I thought it was time to be sure LinkedIn and my resume were up to date. I ran across a new (to me) service called Re.Vu, one that advertises itself as a place to create a resume that's "dynamic, interactive and visual." So I gave it a try. All in all, I'd give it a solid B.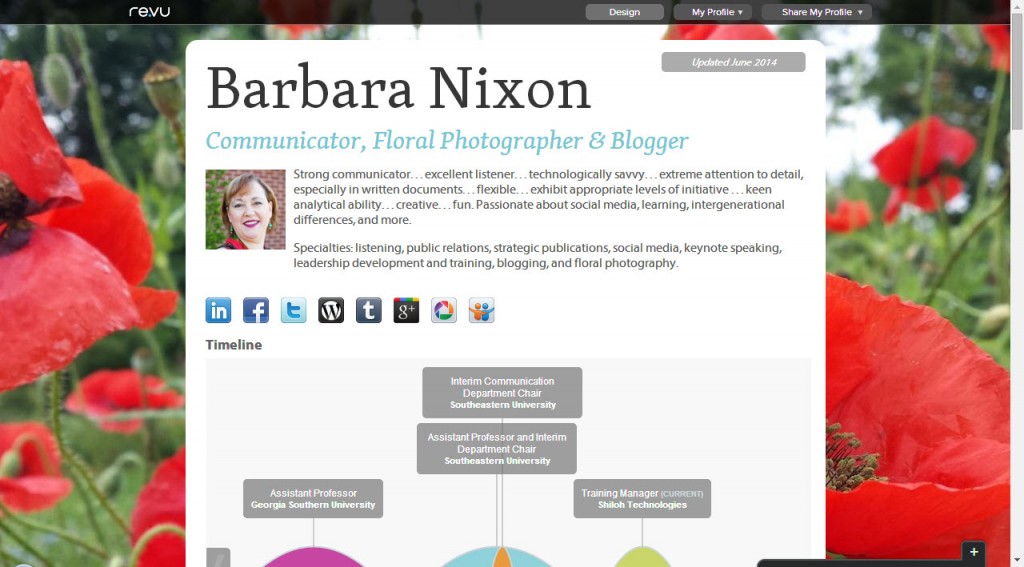 Re.vu has several sections for your interactive resume, and you can choose which to display and which to hide. The sections include:
Personal Data: basic information
Timeline: for your experience
Infographics: up to six tiles you can include with a number (no punctuation) and a few words, along with a few graphs and charts
Portfolio: images that the reader can scroll through
Education: degree or certification, school and year
Work Examples: samples of things you have created
When I got started, Re.Vu asked me if I'd like to connect to my LinkedIn profile to import some of the work experience. I was less than thrilled with what it imported, however. It only captured my most recent experience. That was nice, but I still had to hand-enter all my previous experience. I probably wouldn't have minded the data entry at all if I hadn't been asked if I'd like information imported.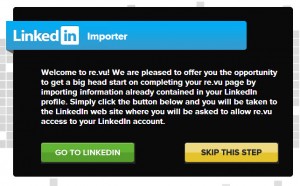 Fleshing out the interactive resume is straightforward. There are prompts on the screen throughout the process. And you can see your work in progress as you go.
My favorite part of the resume is the timeline, where your reader can scroll through your experience. The company name and your title are linked to a popup for the details.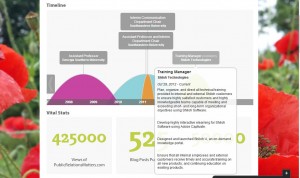 Another feature I like is the ability to see some (very) basic analytics, including how many views the page has and how long the average visit to the page is. I just added my resume yesterday, so there isn't much to see on this page . . . yet.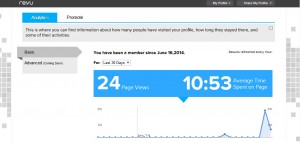 The biggest detractor from Re.Vu is that the site does not have responsive design. My resume that looks fairly attractive on a computer looks significantly less attractive on a mobile device, and the numbers from the infographics are missing their final digits in some cases.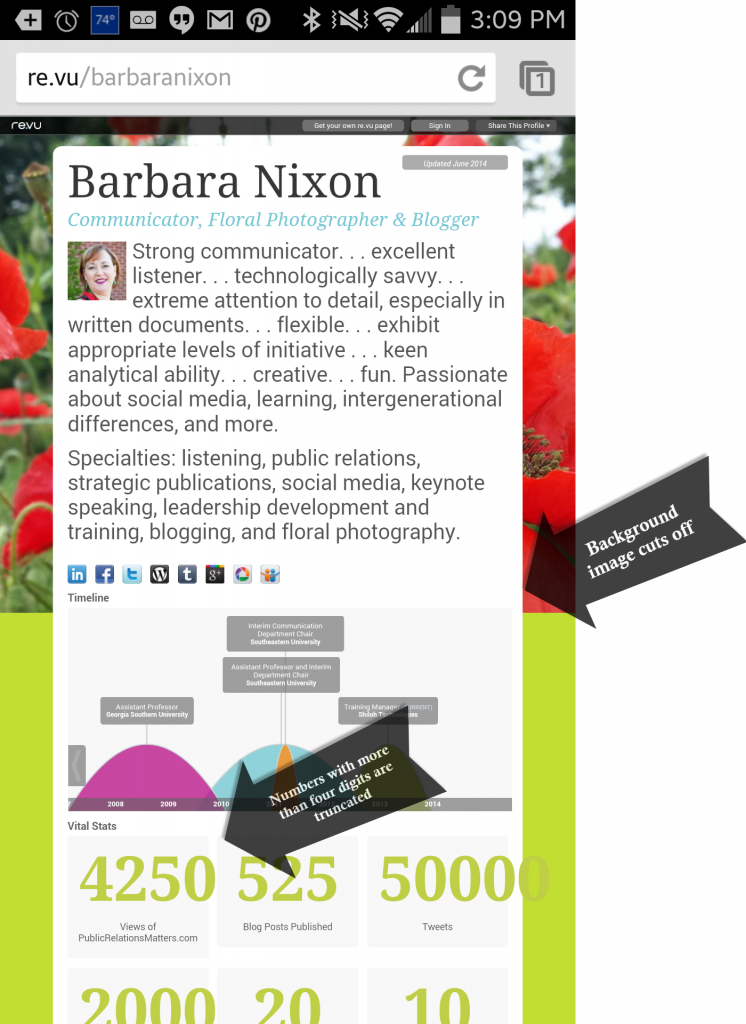 If I could make one change to Re.vu, it would be the ability for embed my interactive resume into my blog (or elsewhere), somewhat like I can with Storify.
Have you tried Re.vu? If so, what are your thoughts on it, both from the applicant and the interviewer perspective?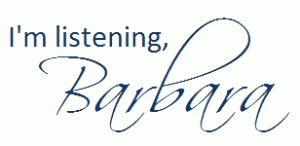 [Today is my oldest son Kyle's 25th birthday. This post is a tribute to Kyle's life.]
"How many children do you have?"
Such a simple question to start a conversation. Or is it? In the past (almost) three years, that seemingly simple question has caused me to fight back tears as I determine how to answer it. Do I say "three" or "four"? You see, in 2011, early in the morning of September 29th, our oldest son died unexpectedly.
My husband Kevin was out of town on a business trip. I woke up that morning and saw more than 20 missed calls and texts on my cellphone, which I left on Silent overnight.
My heart sank.
I listened to the one lone voice mail, which was from East Alabama Medical Center asking me to call immediately. A million things rushed through my mind in that instant, but I knew whatever it was had to do our son Kyle, a graduating senior at Auburn University.
I sank into the footstool of my favorite chair in the living room and called the hospital back, not really knowing what I was about to learn, yet fearing the worst. Upon finally reaching the nurse who had called me, she said that my husband was on the phone with "the doctor" and that Kevin would call me back after he their conversation was done. I swear I didn't move a muscle until I saw Kevin's face show up on the caller ID on my phone.
"Hey. It's about Kyle. He had a seizure. He didn't make it."
I was stunned; Kyle was a healthy 22-year-old college senior. I have no idea what I said back to Kevin or how long we talked, but I do know he told me he'd leave Miami immediately and drive back to our home in Lakeland, FL, about three hours away.
How long I sat on the edge of my green footstool, I have no clue. But then the bible verse of the day app on my phone messaged me with Proverbs 3:5-6.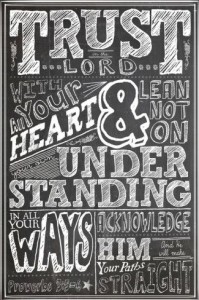 I found out later that Kevin had read that same verse just moments before calling the hospital.  We'll come back to those verses in a moment.
The next 24 hours were a total blur. Telling Kyle's sister and brothers what had happened, given the limited knowledge about HOW he died, was the hardest thing I've ever done in my entire life. But I knew I had to tell them right away — without Kevin's help, before they found out via social media or a well-meaning call or text from one of Kyle's friends.
One thing that Sam said to me echoes in my head almost every day. "I don't even remember the last time I talked to him."
Kevin and I made all the requisite calls to family right away, often asking someone to share the message with others. These calls were so hard to make, trying to console family members while we were so deep in our own pain.
Then I put a message on my Facebook wall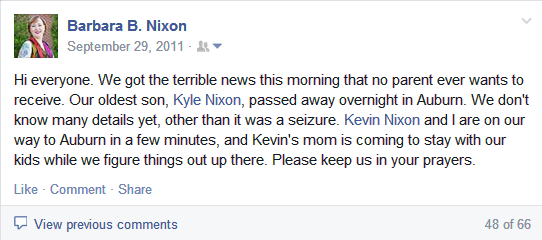 Hundreds of messages of support through Facebook, phone calls and texts (and a few unexpected and welcomed face-to-face visits) helped me through these next hours.
A week or so after he died, we drove to Auburn for Kyle's memorial service. I sat in the back seat and wrote. A lot. And I've spent time writing during many sleepless nights; I don't want to forget a thing about my life with Kyle in it.
So this flood of memories led me to think about what I've learned through this experience:
If you're a parent, be sure to get to know the friends of your children, whatever their age. Kyle's friends have been a constant support for me during this last year.
Social media rocks. It really does. I can't imagine how I would have gotten through these long months without being able to connect with friends that I know in real life, and those I don't, immediately.
Become an organ donor. I was amazed at how many people will have their lives changed because Kyle chose to be an organ donor. We learned that it's 75 or more.
If you have younger brothers or sisters, KEEP IN TOUCH WITH THEM. (I wrote this in all caps because I was really yelling.) The hardest thing for me right now is hearing Kyle's brothers and sister say "I can't remember the last time I talked to him." It is tearing me up inside. I know that college is a time to become independent. But that doesn't mean that you have to totally break free from your family except for the occasional texts asking for a deposit on your debit card or updates on the football game.
Proverbs 3:5-6 is now a bible verse that I meditate on daily. We must trust God. It's not up to us when one of us is called to Heaven. God chooses on His own time. And I pray that at some point I understand why He chose now to be Kyle's time.
Getting back to how I answer the "how many children do you have?" question.
I have four children.
My most recent project is working on a new employee onboarding plan for my company. Could I please get your input on this?
I've included all the usual suspects in the plan, such as
filling out HR paperwork
setting up computer/phone
expectation exchange with leader
drive-by introductions around the office
department- or role-specific training
And I've included some of the not-so-usual suspects, such as
leader sends out welcome email so all employees know a little about the new person
reminder to update LinkedIn and connect with new colleagues there
add recurring meetings to calendar
lunch with (different) co-workers several times in first two weeks
overview of how each department contributes to company success
What would you want on YOUR plan as a new employee? Or, put differently, what do you think should have been on your orientation plan when you started at your most recent company, but wasn't there?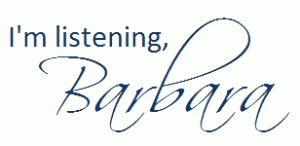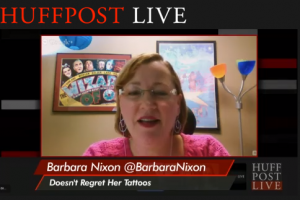 I had a nice surprise email this morning . . . the HuffPost Live wanted to interview me (again) about tattoos (again). This interview was sparked by Jill Abramson choosing to  keep her New York Times "T" tattoo, even though she was unceremoniously fired from the paper last week.
Josh Zepps, the host, asked me why I decided to wait until "later in life" to get my first tattoo. Again, ouch! Oh well.
In the interview, I shared my advice for Jill Abramson, as well as talking about my own tattoos and why I do not regret them.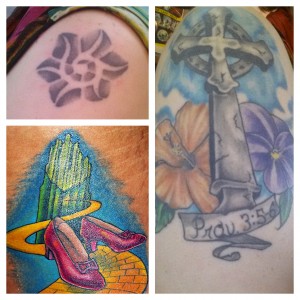 Yesterday afternoon, I was excited to see that HuffPost Live wanted to interview me. I thought it would probably be about my experiences in the Genghis Grill Health Kwest debacle, since that story had just been featured on PR Daily, but no . . . the producer wanted to know if I had thoughts to share on getting a tattoo "later in life."
Later in life? Ouch. Yes, I know I am 50 years old (or a half-century, as I was reminded by one of my kiddos). But I still barely think of myself as being middle-aged,  and being middle-aged is way younger than "later in life," isn't it?
Anyhow . . .
Here's the advice I shared for anyone, regardless of age, who is considering getting a tattoo:
Think long and hard about what you want, because your tattoo should be meaningful to you. It took me several years to decide what my first tattoo would be; I decided on the Borneo Rose that you see in the upper left photo. It very closely resembles a doodle I'd been making for most of my life. Once I got the first one, I couldn't wait for the second. My oldest son Kyle helped me find and tweak the design of my Wizard of Oz tattoo, which I have on my right leg. And the third tattoo is the most meaningful of all; it's a memorial tattoo for Kyle, who passed away unexpectedly in 2011 as a graduating senior at Auburn University. Kyle had a cross tattoo on his arm, and my husband, middle son James and I all decided to get memorial tattoos in his memory. Every day when I see this Celtic cross, I can physically feel Kyle's hand on my arm comforting me.
Work with an artist whose work you have seen in person and that you trust. Each of my tattoos are done by different artists in different states; I got recommendations from people I knew.
Get a temporary tattoo of your design before getting it permanently inked on your body. Still unsure if you really want a tattoo? Or know you want one, but can't decide on size or location? Mock up your design and print it with your inkjet printer on temporary tattoo paper. Try it out in different sizes and locations before you make a final decision.
And place your tattoo so you can choose who sees it. Where you place your tattoo is totally up to you. But for me, I needed to be sure that I could either show or cover my tattoos, depending on who I am with or the situation I am in.
The 20-minute video from HuffPost Live is below; my part of the video starts about 5:50 in and lasts for about 5 minutes:
What advice would YOU give people who are considering their first tattoos?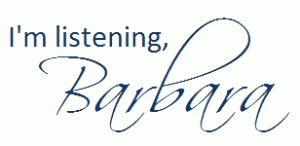 Today's post comes from guest blogger Eden Spodek. This post originally appeared on Eden's blog.


"The tools today are different, but the premise remains the same. Lie or spin the truth, and you will be found out. People will take you to task."
 – Gini Dietrich
I've known Gini for several years, am a loyal reader of her award-winning Spin Sucks blog and a regular listener of Inside PR, the podcast she co-hosts with Martin Waxmanand Joseph Thornley. I've watched her implement some relatively simple tactics – such as her take on the #Follow Friday meme, livefyre Q&As and, Gin and Topics – that can only be described as part of her brilliant marketing strategy. All the while, she's constantly sharing her "secret sauce" to digital communications and reputation management… for free! If we only only knew about how she applies her knowledge to her client work, well now we can, sort of – stick with this and you'll see.
Gini has an amazing ability to make everyone feel welcome while spreading her hospitality and enthusiasm across the social web. She's built an active community where members have developed friendships extending beyond the borders of Spin Sucks (the Blog). If I didn't know better, I'd think her blog was her full-time job. But I do. She helms a successful integrated marketing communication agency and among other things, is a sought after public speaker who has given the keynote address at conferences in Canada, the United States and Europe. When she put out a call looking for Spin Sucks Brand Ambassadors, I jumped at the chance to get involved and get an advance copy of Spin Sucks (the Book). That in itself was reward enough. Little did I know how much I'd enjoy being part of a wonderful subset of the Spin Sucks' community.
I've learned a lot from Gini. Not only from what she shares in her blog posts but also by watching what she does, how she does it and learning some of the thought processes behind her work through her public speaking engagements. I'm also a digital communications strategist who works and teaches in the online space and espouses the gospel of transparency, disclosure and anti-spin on a daily basis. So, much of what's written in Spin Sucks the book was familiar yet, there were still several actionable tips I learned.
If you're looking for a quick fix or a magic bullet to help market your business online, you're not going to find it here. However, if you're willing to invest the time and follow Gini Dietrich's secret sauce over the long haul, Spin Sucks: Communication and Reputation Management in the Digital Age is a must-read.
"Your competitors know the exact recipe to your secret sauce, but no one does it as well as you do. It's your secret sauce. It was created with your people, your thinking, your culture, your passion, and your vision."
Gini brings her personal voice and tone to Spin Sucks the book, the same as her blog readers have come to know and love. She's up front about telling you who the book isn't for – several times throughout the book, in fact – all the while reminding those who stick with her that this journey is a "marathon and not a sprint". Gini uses current examples to illustrate her points, including some case studies from her own client experience. This is more than theory folks; her secret sauce is based on actionable items she's implemented and measured! In each section, Gini starts with the "what" then uses examples to explain the "why". Unlike many business books, she also includes the "how-to's" right down to the tactical, technical details in an easy-to-follow manner. Some things, like Google algorithms may change – remember this is the web and social media we're talking about – but the importance of good writing, using common sense, being transparent, disclosing relationships and saying "I'm sorry" don't.
If you're new to Spin Sucks, you don't need to be a PR agency or big business in order to appreciate and follow Gini's approach. In fact, it's designed with small-to-medium businesses in mind and can be applied to any industry.
If you're like me, even though you've read the blog regularly, you may appreciate having a single reference document with additional information and insights you won't find online. Spin Sucks: Communication and Reputation Management in the Digital Age is short and easy-to-read but it makes you think. Plan to give yourself time to absorb the message and put the approach into practice.
Disclosure: Although I've purchased copies of Spin Sucks: Communication and Reputation Management in the Digital Age, I was given a review copy. Gini Dietrich has been a regular guest speaker for the Foundations in Digital Strategy and Communications Management Certificate program at U of T School of Continuing Studies where I'm a curriculum developer and instructor. I consult with one of the companies referenced in the book and the sock monkey is from Parkdale Novelty, a client.
What I'm reading…