As I prepare to move from Northwest Arkansas to Northeast Wisconsin, I thought it was time to be sure LinkedIn and my resume were up to date. I ran across a new (to me) service called Re.Vu, one that advertises itself as a place to create a resume that's "dynamic, interactive and visual." So I gave it a try. All in all, I'd give it a solid B.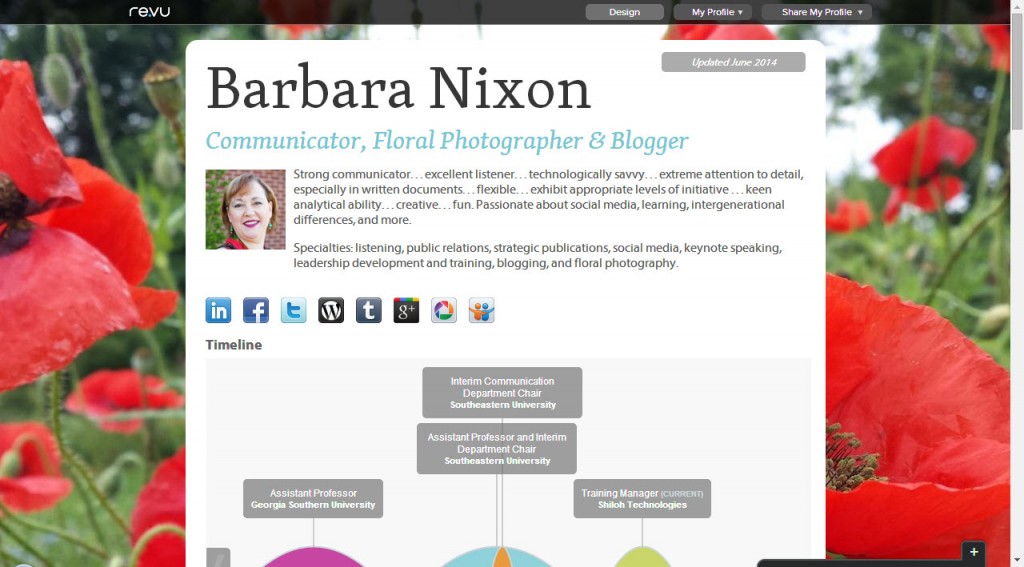 Re.vu has several sections for your interactive resume, and you can choose which to display and which to hide. The sections include:
Personal Data: basic information
Timeline: for your experience
Infographics: up to six tiles you can include with a number (no punctuation) and a few words, along with a few graphs and charts
Portfolio: images that the reader can scroll through
Education: degree or certification, school and year
Work Examples: samples of things you have created
When I got started, Re.Vu asked me if I'd like to connect to my LinkedIn profile to import some of the work experience. I was less than thrilled with what it imported, however. It only captured my most recent experience. That was nice, but I still had to hand-enter all my previous experience. I probably wouldn't have minded the data entry at all if I hadn't been asked if I'd like information imported.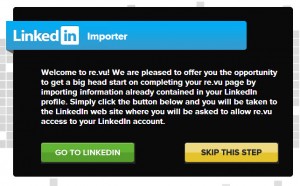 Fleshing out the interactive resume is straightforward. There are prompts on the screen throughout the process. And you can see your work in progress as you go.
My favorite part of the resume is the timeline, where your reader can scroll through your experience. The company name and your title are linked to a popup for the details.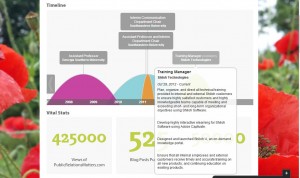 Another feature I like is the ability to see some (very) basic analytics, including how many views the page has and how long the average visit to the page is. I just added my resume yesterday, so there isn't much to see on this page . . . yet.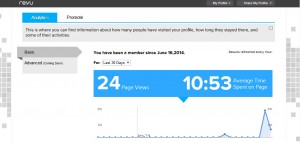 The biggest detractor from Re.Vu is that the site does not have responsive design. My resume that looks fairly attractive on a computer looks significantly less attractive on a mobile device, and the numbers from the infographics are missing their final digits in some cases.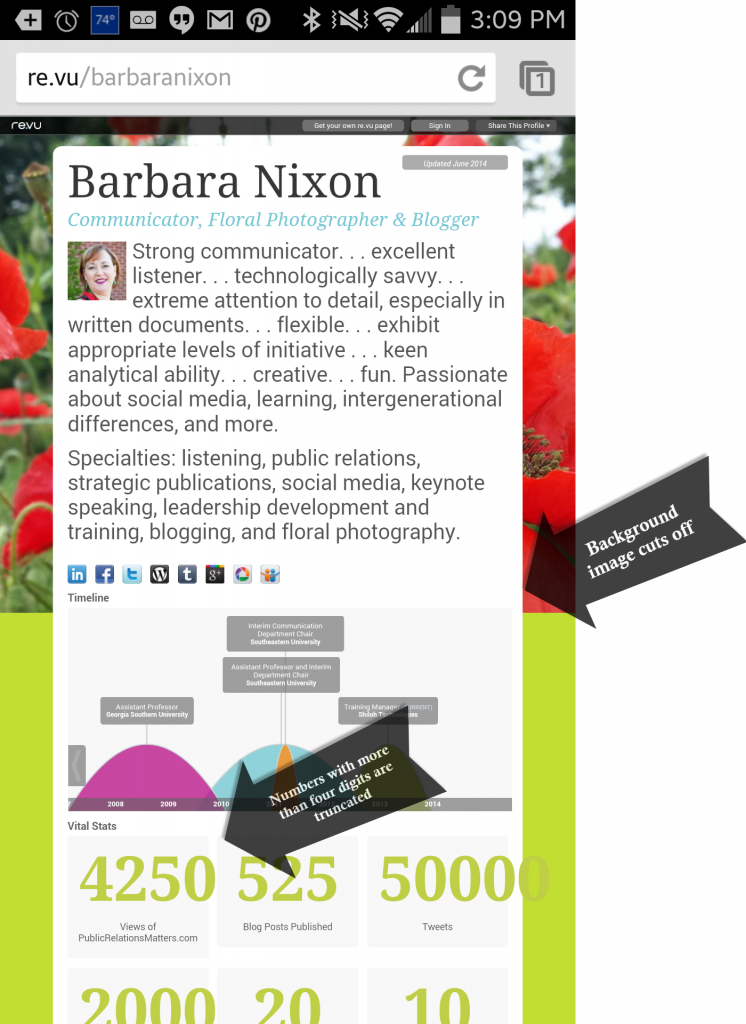 If I could make one change to Re.vu, it would be the ability for embed my interactive resume into my blog (or elsewhere), somewhat like I can with Storify.
Have you tried Re.vu? If so, what are your thoughts on it, both from the applicant and the interviewer perspective?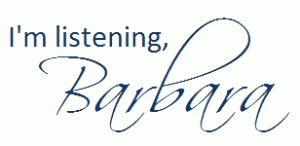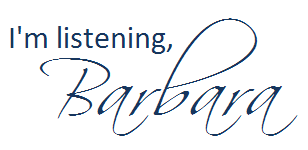 In several of my classes this semester, public relations  students are writing resumes and cover letters as one of their assignments. I tend to see the same errors over and over again.
Here are some of the common errors I find:
Appearance / Overall
Having any typos, misspelled words or grammatical errors (some employers will discard your resume if any mistakes are apparent)
Not using same header for all cover letter, resume & reference page
Failing to include your custom LinkedIn URL
Using different fonts for no apparent reason
Cover Letters
Focusing on yourself, not the needs of the potential employer
Too many self-focused statements; starting too many sentences with "I"
Forgetting to sign letter (scan your signature to place into electronic cover letters)
Not stating what you can do for the employer in clear terms.
Not including an enclosure line (such as: Enclosures: Resume & Reference Page)
Resumes
Longer than one page (it's possible to "earn" more pages once you're established in your career)
Not including strong action-verbs (too many "to be" verbs)
Providing too few keywords related to the PR field
Including "responsibilites/duties included"
Writing in first person ("I")
Writing in complete sentences, rather than powerful, short phrases
Burying your education at the end of the resume
Not mentioning your education at your current university
Not describing your major and anticipated graduation date
Including high school, even though there are no relevant honors/awards/achievements
A low (below 3.0) GPA is listed
Extremely short (you can list relevant coursework if you have little related work experience)
Leaving to unclear to the potential employer exactly what you accomplished in your work history
Including too much information about the employer (all you need it company name, city & state — no need for full address, supervisor name, etc.)
Dates listed in chronological, not reverse chronological, order (you should list most recent information first in each section)
References listed directly on resume itself (they should be on a separate page)
Reference Page
Not using same header as resume & cover letter
Not including all necessary information (name, company name, title, full mailing address, phone number & e-mail address)
Fewer than three references listed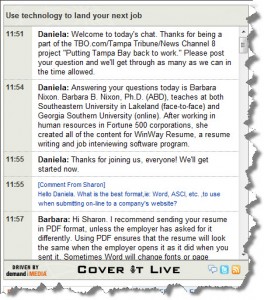 Today I was invited by the Tampa Tribune and TBO.com to share my expertise regarding social media and the job search. Here's a transcript of the live chat we held at noon, using CoverItLive.
Many thanks to Chris Taylor, AKA @TBOChris, for inviting me to the studio, to Daniela for moderating the chat, and to my longtime Twitter friend & Tampa Tribune writer Jeff Houck (@JeffHouck) for inviting me to lunch at The Taco Bus after the chat session.
| | | |
| --- | --- | --- |
| | Use technology to land your next job | |
11:51

Daniela:

Welcome to today's chat. Thanks for being a part of the TBO.com/Tampa Tribune/News Channel 8 project "Putting Tampa Bay back to work." Please post your question and we'll get through as many as we can in the time allowed.
11:55

Daniela:

Thanks for joining us, everyone! We'll get started now.
11:55

[Comment From Sharon]

Hello Daniela. What is the best format,ie: Word, ASCI, etc. ,to use when submitting on-line to a company's website?
11:57

Barbara:

Hi Sharon. I recommend sending your resume in PDF format, unless the employer has asked for it differently. Using PDF ensures that the resume will look the same when the employer opens it as it did when you sent it. Sometimes Word will change fonts or page breaks without warning, making your resume look odd. With the latest version of Word, you can easily Save As PDF. And ALWAYS open the PDF yourself, preferably from a different computer, for your own quality assurance.
11:57

[Comment From Andrea]

How can I best use Twitter to land a job?
11:58

Barbara:

Hi Andrea. There are a few ways you can use Twitter. Let me talk about a few of them for you.
11:59

Barbara:

One thing I highly recommend is for you to start following pros in the field in which you wish to work. See what they're writing about. Respond to them. If they post links to their blogs, comment on the blogs.
12:00

How did you find out about this chat?

TBO.com homepage

News Channel 8

Tampa Tribune

Facebook

Twitter

Other
12:00

Barbara:

Another idea for using Twitter in the job search is to post a link to your resume. (I recommend creating a profile at LinkedIn, and link to that rather than your resume itself — just so that you can keep your address, phone, e-mail private).
12:01

Barbara:

You can connect Twitter to LinkedIn, so that your tweets also show up in LinkedIn, but do this judiciously. Most people don't want EVERYTHING they tweet to appear on their professional profiles in LinkedIn.
12:03

Barbara:

If you're a blogger, be sure to post links to your blog posts to Twitter — that is, if you think theese posts will help create a professional appearance for you in the eyes of a potential employer.
12:04

[Comment From Lauren]

If I were to sign up for ONE social site to try to get a job- which one do you recommend?
12:04

Daniela:

Thanks for the questions, folks. Keep 'em coming!
12:05

Barbara:

Hi Lauren. The one site I recommend more than any others for job searching is LinkedIn. Not only can you post your own profile/resume there, you can easily network with others. Your LinkedIn profile can be longer than the traditional, one-page resume.
12:05

Have you been using LinkedIn in your job search

Yes, I use it all the time.

No, I don't even know what it is.

Sort of.. I created an account but don't use it.
12:08

Barbara:

Lauren — here's a link to a blog post I wrote earlier this year about using LinkedIn in the job search. The post was aimed at college students and recent grads, but others can benefit from LinkedIn as well. And feel free to connect with me at LinkedIn.
12:08

[Comment From Sharon]

Is this the same answers for Facebook, too?
12:09

Barbara:

Hi again, Sharon. Facebook… this can be both a blessing and a burden for job seekers.
12:12

Barbara:

Unless your Facebook profile is marked as Private to all but your closest, in-real-life friends, you'll want to scour through everything you have out there and think "how could a potential employer possibly misinterpret this?"   Photos are especially problematic in Facebook. Just think about how much personal information you are showing a potential employer simply through what you've chosen to post in your photos. Most of this information (children, hobbies, night life) has no place in a hiring decision… yet it may be in the employer's mind when/if you make it to an interview.

Also think about any Facebook groups that you have joined, perhaps on a whim. Some of them have names that are not conducive to making a professional impression.
12:15

Daniela:

Every week, we ask people to send questions to us so we can ask the expert.

David asked: I'm 49-year old owner of a small environmental consulting company that is barely afloat. I've been looking for a job to supplement my income. How can I use technology and social media to find something?
12:16

Daniela:

Barbara is working on this question right now.
12:17

Barbara:

Hi David.  If you've not joined LinkedIn yet, you should consider doing it now. Besides being able to post your profile there, you can also go into the Answers area and answer questions in your field. This will help promote you as an expert in your field.
12:18

[Comment From Sharon]

Good question from David!! I'm a newbie to all these social media sites!
12:19

Barbara:

Also, David, if you don't yet have a blog, you might want to consider starting one. You could write something every week or so about a topic in your field.
12:21

Daniela:

Another one of our users, Melanie, asked this question: Where do you go online to find openings for truck drivers?
12:24

Barbara:

Hi Melanie. Though I don't have a specific site that I would recommend for seeking truck driver positions, I have a contact in the field who I can ask. I'll get back with you via e-mail about this. If you're a Twitter user, you might also want to connect with @TruckerDesiree. She's a good source, especially for women who are interested in joining the trucking industry.
12:26

[Comment From Sharon]

Do HR interviewers check all these sites when considering you for an interview? I'm not in a degreed professional field…I'm in Customer Service ,Call Center worker. Will this technology benefit me too??
12:28

Barbara:

Hi Sharon. Yes, you WILL be Googled. (Just think, a few years ago, that wasn't even a word.) Employers will check online to see what they can find about you before determining whether to call you in for an interview. Your goal should be to have any information they find about you to be positive and professional. The more you write in a blog, add to LinkedIn, etc., the better it will be for you — especially if you have a common first and last name.
12:30

[Comment From Sheila Surla]

I'm not exactly a professional, I have done administrative work and it doesn't have to be tied to any particular field. How do I market myself and set myself apart from the 100's of others who do what I do?
12:34

Barbara:

Hi Sheila. If you're a top-notch administrative assistant, there is a market for you. Try to think about which two or three fields interest you most, and focus your efforts there. I've mentioned LinkedIn here several times, and I'll mention it again. Create a profile for yourself there, and go to the Answers area. See what questions people have that you can help with. Make a name for yourself there, and who knows, you may land a role as someone's Virtual Assistant.
12:35

Daniela:

Martha, another one of our users, asked this: How do you use technology to find out when job fairs will be happening?
12:36

Barbara:

Hi Martha. If you're looking for job fairs in your area, Google will help you more than almost anything. Type in "job fair" and the name of the city where you're seeking employment. If you're here in the Tampa Bay area, check out TBO.com or read the Sunday Tribune classifieds section. You may come across some ads for job fairs there.
12:36

Do you have a twitter account?

Yes, and I use it all the time.

Yes, but I never use it.

No, I need to create one.

No, and I don't plan on creating one.
12:37

[Comment From Sheila Surla]

To add onto my previous question, I have no schooling for what I do, I've basically been picking up skills along my career path. I think this hurts me through my resume, will linkedin help show my skills better?
12:38

Barbara:

Hi again, Sheila. It sounds like you might have a traditional, chronological resume. You may want to consider using a functional resume instead.

The functional format organizes your skills and accomplishments into job task groupings that support your stated career objective. If you must pull together certain skills and accomplishments from a variety of past experiences to show your preparation for what you want to do in the future, then the functional format is probably for you. People who have been out of the workplace for several years —  for example, those people who choose to stay at home to raise a family while the children are young — benefit greatly from this format. It draws attention to what you did rather than when you did it. Another advantage of this format is that it allows you greater flexibility in presenting skills gained through personal experience or through low-paying or volunteer jobs.
12:42

Daniela:

We're about to start wrapping up the chat, but Barbara's going to give you all a few more helpful tidbits before we leave.
12:43

Barbara:

If you're looking for some more advice on resume writing, you may want to take a look at Resumes That Resonate, a post I wrote at my Public Relations Matters blog. One of the keys I mention in that blog post is to pepper your resume with key words / terms that an employer might be looking for. And if you are writing a resume for a position where you know what the job description is, use as much of the specific terminology in the description as you reasonably can. It will help make you look tailored for the position.
12:44

[Comment From Sheila Surla]

I'm on the linkedin website now and it's pulled up a bunch of people I've maybe just e-mailed about a job, should I go ahead and connect to them?
12:44

[Comment From Sharon]

Thank you, Barbara. You have given extremely good advice today.
12:44

Daniela:

Barbara's going to take this last question from Sheila, then she'll give you her follow-up before we sign off.
12:45

Daniela:

*follow-up information
12:46

Barbara:

Hi again Sheila. Absolutely… when you send the connection request to potential employers in LinkedIn, be sure to mention in the e-mail that you're seeking employment with the company — rather than using the generic e-mail that LinkedIn provides. It's always smart to provide context when you are asking to connect in LinkedIn (or elsewhere).
12:48

Daniela:

Thank you all out there for participating! And thank you, Barbara, for being our resident expert today. Join us next Wednesday at noon for the next installement of "Putting Tampa Bay Back To Work." In the meantime, good luck to all of you on your job search.
12:49

[Comment From Andrea]

Thank you!!
12:50

[Comment From Sharon]

Thank you. Good bye all —and good luck!!
Worth: 250 points
Create a professional-looking resume package as if you are applying for a specific position within a real company.
The draft of the package is due in GeorgiaVIEW on February 4 by midnight. Learn from the feedback you receive on the draft, make changes, and submit your final version no later than April 5 at midnight.
Use the advice in Job Search: A Delightful Dozen Posts I provide in this blog, as well as the vast amount of resume & cover letter advice in WinWay Resume Deluxe, when working on this assignment. You will find the Resume Auditor in WinWay Resume to be especially valuable for you, as it will help you catch common resume mistakes. (Disclosure: I created the Resume Auditor function for WinWay Resume.)
The package will contain:
Job description or want ad from a specific company
Cover letter written specifically for this position
One-page resume, including the URL for your up-to-date LinkedIn profile
Reference page created specifically for this position
NOTE 1: If you choose not to complete a draft of this assignment for feedback from me, the highest grade you will earn on the assignment is 200 points (of the 250 available).
NOTE 2: Typographical or grammatical errors will count off one letter grade each. It's THAT important to be error-free in your resume package. (Some employers will not consider an applicant who includes errors in the application process.) Proofread your resume package yourself, and also have at least three other people proof it for you.
It's now the start of fall, even though it doesn't really feel like it here in the Savannah area, and many college seniors' minds are turning to "how will I get a job when I graduate." Over the last year or so, I've written several blog posts on the job search. Here are a few that might be helpful. especially for public relations majors:
Are there other blog posts that have helped YOU in your job search? I'd appreciate it if you could share them as a comment here.
Thanks!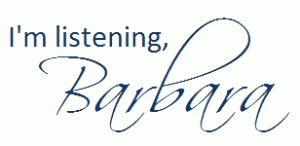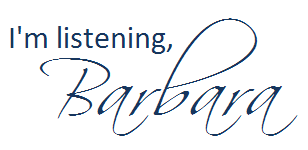 What's the purpose of a resume? It's not to get you a job. . . instead, it's to provide a positive first impression that MAY garner an interview for you. The advice below comes from my years of being a hiring leaders – and listening to many more. If you're lucky, hiring leaders may scan your resume for up to 15 seconds before they determine if it's worth pursuing further.
Tailor your resume to the specific position that you're applying for. Use the same phrasing in your resume that you've found in the employer's want ad whenever possible.
If you have less than 10 years of experience, it's best to stick to the traditional one-page resume. Each additional 10 years may help to "earn" you an additional page. (If you want or need to provide more details, offer the URL of your LinkedIn profile. See my profile.) If you are not yet out of college, it's presumptuous to think you need more than a one-page resume.
If your blog has content that may be of interest to your potential employer, include its URL on your resume.
Pepper your resume with terms that are relevant to the career field and industry in which you desire employment. Phrase your work experience in terms that are relevant to your career goal.
Use reverse chronological order (most recent first) when listing your experience and education.
If you are still in college, it's okay to leave your high school on your resume if you have available space for it, especially if you did something noteworthy during your high school years. After you graduate from college, leave high school off your resume.
Always start every bullet point in your experience section with an action verb. Use past tense for previous jobs and present tense for current jobs. Never start a bullet point with "responsible for" or "duties included."
If you have little paid work experience, provide details on projects done in classes to show that you are prepared to enter the working world.
Volunteer experience counts too! Don't forget to include service projects you've been involved with.
Explain acronyms and cryptic group names on resumes. A potential employer will not automatically know that SOCS stands for Society of Communication Scholars, ILA stands for International Listening Association, or that PRestige is a public relations firm made up of college students.
Many employers assume that if an organization's name includes greek letters, it's a social fraternity or sorority. If you belong to something Phi Kappa Phi, indicate that this is an honor society.
What to do about that GPA? If it's above 3.0 (on a 4-point scale), you may want to include it. If it starts with a 2 or lower, definitely leave it off. Or, you can include your GPA just in your major if you'd like, for example "3.4 GPA in Major."
Before you graduate, you can still include your anticipated degree on your resume. For example, "Bachelor of Science in Public Relations expected in May 2010."
Use the same header for your resume, cover letter and reference page. Everything should coordinate.
To make it look more professional, use your computer, not a pen, to address the envelope.
Check postage prices before mailing your resume. You don't want it to arrive postage-due.
In your cover letter, watch for overuse of the words "I" and "my." Instead, be company-focused.
Remember to sign your cover letter.
Never in a million years should you start a cover letter with "To whom it may concern." Use the name, or at least the title, of the hiring manager instead.
For your reference page, include complete contact information for each reference. Include name, title, company, mailing address, e-mail address and phone number.
For entry-level public relations positions, Jennifer Abshire of Abshire Public Relations & Marketing offers these additional suggestions:
Leave the objective off, or customize it for the specific position you're applying for. Don't use a generic one that you found on a template somewhere.
Include all your work experience, even if it seems not directly related to the position. (The worst that will happen is that it will show that you are a hard worker.) Abshire holds in high regard people who are well rounded and street smart, rather than with a high GPA and no work experience or community involvement.
Send a few samples of your writing or design work along with your resume.
If sending your resume (and samples) electronically, make one PDF file that has all the information in it, rather than sending multiple attachments. (For an inexpensive and easy-to-use program for creating PDFs, try CutePDF.)
After you've created your resume, have several people proofread it for you. Set it aside for a while. Then measure your resume up against this Resume Checklist.
Updated from my original Resumes That Resonate: Tips for Entry-Level Positions.
Edelman Digital's Phil Gomes offers three resume tips in this short video. He shares his advice on listing courses on a resume, listing all internships, and how long to make a resume.
In these days of travel budgets being slashed to bare bones, many companies are doing more phone interviews than ever. One of my PRCA 2330 students was just invited to a phone interview for an internship. She asked for some tips specific to phone interviews. Here's some of my best advice:

Know the details of the interview. For example, do you call the interviewer? Or does he or she call you? Be prepared at least 15 minutes ahead of time, and be aware of time-zone differences.

If possible, make or take the call from a landline telephone, rather than a cell phone. You don't want to have to worry about your call being dropped part-way through. If you must use a cell phone, be sure you're in an area with exceptionally good coverage.

If the interviewer calls you on your cell phone, be sure that he or she hears a "regular" phone ringing, rather than a snippet of your favorite song. Call tones (or ring tones, depending on the lexicon of your phone provider) are sometimes confusing to callers who expect to hear just a ring.

Whether it's a cell phone or a landline phone, check to see that the battery is fully charged before you begin to speak.

Do your best to be in a quiet place, away from chatty roommates, barking dogs, etc.

Prepare your interview area carefully. Be seated at a clean desk, and have a copy of your resume in front of you. Also have information about the company printed and available for you to refer to if you need it.

Have a cup of water with a straw nearby. It's best to have no ice. 
No gum chewing. Though I love to chew gum, I know how awful it sounds to others at times.
Dress professionally, even though you know the interviewer cannot see you through the phone. We tend to act more professional when we appear more professional.

Avoid typing while talking, especially if you have long nails like I do. The sound of typing may make it sound like you're not interested enough in the discussion to give it full attention.

Take notes as needed during the interview.

If the interview is done via Skype (or other) video chat, check your equipment with a friend ahead of time to ensure you know how to make or answer the video call. Make eye contact with the camera just as though you were talking face-to-face with the interviewer. Practice this with a friend! It feels quite awkward the first time you try it.

Immediately after the phone interview, send a short (yet professional) thank you e-mail to the interviewer. Then follow up that e-mail, the same day if possible, with a hand-written thank you note.

Photo credit: http://www.flickr.com/photos/49968232@N00/9257237/
Have you tried Wordle yet? It's fun, and it's addictive. I took my resume and tweaked it slightly*, and then imported it into Wordle. Here you can see me, in about 99 words. Fun!

*To tweak my resume, this is what I did:
for words that I wanted to have joined together (like "public relations"), replace the space between the words with a tilde (public~relations)
took my name and copied/pasted it about 15 times, so that I was sure my name would be the largest word in the image
replaced variations of a word (like communicates, communication, communicate) and standardized it to one word (communication)