Mark Ragan, CEO of Ragan Communication, offers five tips for taking better corporate photos:
Ditch the photos of employees "working"
Show the purpose of machines through photos
Capture a group's shared trait
Get your subject away from their desk
Use black and white photos from time to time
Wondering why "execution at dawn" is part of the headline of this blog post? See what Mark has to say about group shots in the video below.

Public relations practitioners are called upon to take photos on occasion for their clients. For this assignment, you will take a photo and write a caption, with the intent that the photo and caption could stand alone and be published without an accompanying news release / article.
Using the rules of great photography you learned in your textbook and in the Language of the Image course you took at NewsU, take one photo of someone or something that is newsworthy and would benefit your client. (If you cannot come up with a photo idea for your client or if your client is too far from where you are living now, then take a photo that would benefit the Communication department.)
Then write a caption to accompany the photo using the four-part process described by Lori Oglesbee in the Journalism Education Today articled titled Captions, and add a photo credit. Your caption will contain the following elements:
Headline
Identification Sentence
Secondary Information Sentence
Quote
Photo Credit
To submit this assignment, use one Word document. Put your name and course number at the top. Paste your photo into the Word doc; size it so it's five inches wide (and whatever height it needs to be to be proportional). Write your caption, including photo credit, beneath the photo. Turn the assignment in using the usual method for our class.
NOTE: I do NOT need the original, high-resolution photo for this assignment.
To see how this assignment will be assessed, see: Rubric: Photo with Caption Evaluation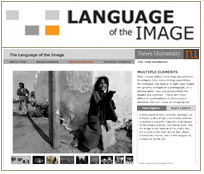 Instead of physically coming to PRCA 3339 on Friday, October 24th, please take the NewsU online course titled "Language of the Image." You will need to register with NewsU — free — before you can take the couse. We will discuss some of the key points Below is NewsU's description of the course: 
What will I learn? This module will explore the elements that transform a photograph into an image that tells a story. Through interactive exercises you will learn about quality of light, juxtaposition, point of entry, mood, emotion and a sense of place. At the end of the course, you will be able to communicate better, using visual language, with your newsroom colleagues, whether they are photographers, reporters or editors. And you can share with others who have taken the course how your new visual vocabulary will help you in the newsroom.

How long will it take? This self-directed module takes about one to two hours to complete. You can access the course on your own schedule, starting and stopping at your convenience. And you can come back anytime once you enroll.

About the instructor: John Davidson is a partner in Creative Eye Consulting, specializing in visual therapy for the newsroom. Before leaving in January of 2003, Davidson was Assistant Managing Editor/Photography and Senior Editor/Visuals at The Dallas Morning News. He has worked at five other newspapers as a photographer and photo editor.

Note: This course requires the Flash plug-in to view.

Cost: This course is currently available at no cost to registered users of News University.