First, of course, was Dorothy, who clarified her perspective by listening to others as she tried to find her way home.
The Cowardly Lion struggled for courage, and listening definitely takes courage. When we ask a question, we must be prepared to listen to the hard stuff, too, not just what we want to hear.
Scarecrow, in search of a brain, knew the value of listening and the hazards of over-talking. In answer to Dorothy's question, "How can you talk if you don't have a brain?" Scarecrow replies, "I don't know. But some people without brains do an awful lot of talking, don't they?"
The Tin Man, in searching for his heart, realized through listening to others that he had what he wanted and needed all along. In fact, they all did—which also became a lesson in inward listening.
They also learned a hard lesson from the Wizard, who was not aware of his impact as a role model or how urgently he was counted on to listen to and help others.
Listening is a journey, and everyone's Yellow Brick Road has roadblocks and potholes along the way and a cast of characters with their own struggles.
Wicked, the back story of the Wizard of Oz [describing the lives of the Elphaba, the Wicked Witch, and Galinda, the Good Witch] teaches a number of listening lessons, as well, related to assumptions, prejudice and friendship. The powerful tales of Oz serve as a fitting reminder of my message throughout my term as ILA president: "There is power in listening."
For the original mindmap I created (using Inspiration concept mapping software), see the PDF of Listening Lessons from Oz Mindmap. The mindmap includes Toto, too!
As a past president and  life member for the International Listening Association, I would like to share my notes with you from this year's convention, held in Albuquerque. The sessions are typically small, intimate and interactive . . . and I am the ONLY one I know of who is using Twitter to provide notes and commentary. As such, it's really awkward (and potentially rude looking) for me to be typing & tweeting while sessions are going on. So, I decided to use a running Cover It Live session to capture my thoughts AFTER each session is complete. If I see others also using Twitter, I'll invite them to join me.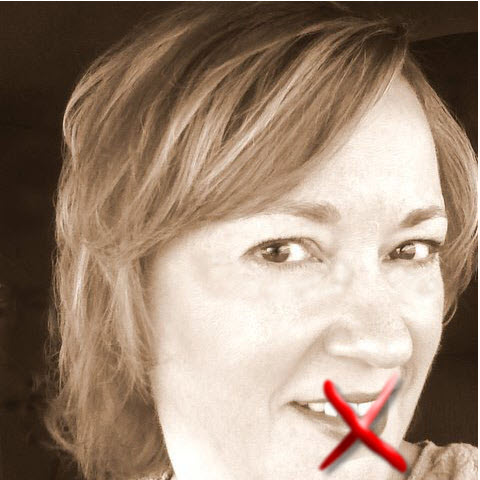 This week, I am attending the National Communication Association convention in Chicago. In its own words, "NCA is a scholarly society that works to enhance the research, teaching, and service produced by its members on topics of both intellectual and social significance."
While preparing to attend this convention, I told my students at Georgia Southern University that I would be sharing what I learn, along with random observations about the convention, using Twitter and identifying the NCA-related tweets with the hashtag #NCA09 to make it easy for them to find what I was writing.  NCA itself is also using a Twitter account to share information & answer questions about the convention, as well as maintaining a Twitter list of NCA members attending the convention.
But then something took me aback.
At the first session I attended yesterday, I had my Palm Pre out and was prepared to take my notes on the session on the device and share them via Twitter.  The session chair stood and made his opening remarks about the panel discussion that was about to take place. And then he asked everyone to turn off and put away all electronic devices.
I was taken aback, but I complied (mostly because I was sitting in the front row.) Then I took my notes old-school, with a notebook and paper. (I did notice later that I was taking my notes in 140 characters or fewer. Hmmm.) This must have been an aberration, just the preference of one panel? Over lunch, I did a barrage of tweets with everything I would have tweeted live if I had been permitted to.
Apparently at the Newcomers Welcome Session, NCA participants were specifically asked not to tweet during sessions. (I arrived in Chicago after the welcome session, so I was not there to hear the request myself. This bit of information was shared with me at the #NCAtweetup held at Buddy Guy's Legends last night, where ~30 or so NCA members who are connected via Twitter gathered to meet in person.)
UPDATE as of 7:27am on 11/13/2009: According to the NCA Twitter account, "Tweet restrictions during sessions are decided by presenters, not NCA. We do not have any policies against tweeting during sessions."
At a later session, on the use of social media in public relations classes, I asked permission to tweet, and that request was warmly welcomed by all members of that panel. So several of us DID use Twitter during that session, and we even received feedback and questions from others not attending the convention while the session was going on. We shared those tweets with the panel during the Q&A session. And to me, THAT is the power of Twitter.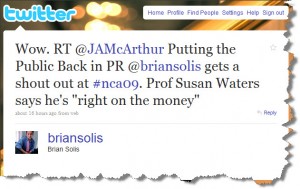 So here are my questions…
As a speaker, what are your thoughts on people tweeting while you speak?
As a listener, does Twitter enhance or detract from your listening?
As an association, does asking/telling members not to tweet equal a type of censorship?
I welcome your thoughts.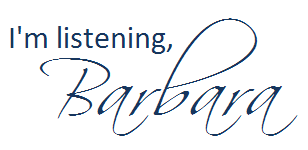 How can a nonprofit organization survive without its volunteers? They can't. It's critical that we listen to our volunteers.
At both the International Listening Association and the Southern States Communication Association, I shared several best practices on listening to volunteers. The ILA session was recorded live; the audio from that session accompanies the slides in this slidedeck:
Listening To Volunteers: Best Practices for Leaders
What additional examples would you add?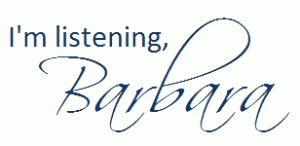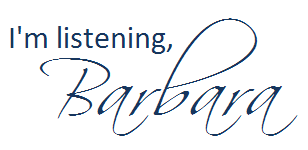 What's a great way to listen to another person?
As Michael Wade notes in
his article
from a recent
US News & World Report
:
Look through a window, not a mirror. Don't assume that the person means what you would have meant under similar circumstances.
Interesting approach, isn't it? Let's think about how "listening through a window" might work in practice.
As an educator of students in the Millennial Generation, it's critical that I listen to my students through a window. For years, if I was planning on meeting someone somewhere, I might say, "We're going to hook up later." Now if I was to use the same expression in one of my classes at Georgia Southern University, I'd probably be met with snickers (and not the candy bar) from my students. Why? The term "hook up" has changed over the years. This doesn't mean that I need to use their language, but I do need to be aware how my choice of words may be interpreted.
Wade contends that there are six ways to be a great listener. Rounding out his list are:
Listen for a theme.
Recognize that the speaker might not know the real message.
Subdue your ego.
Act as if you are listening.
Use an old investigator's trick.
In future postings to Listening Matters, I'll apply many of Wade's other tips.
So, how can your life change if you listen through a window instead of a mirror? Please share your thoughts by commenting here at Listening Matters.
Photo Credit: Thanks go to asmundur, who posted this gorgeous photo titled "In the Foyer" to Flickr.
Note: The following article is based on a reflection exercise faculty members participated in at Poynter Institute's Teaching Diversity Across the Curriculum conference last week in St. Petersburg, Fla. In small groups, we went to Listening Posts across the city, where we were instructed to observe a culture unlike our own. Dennis, Kym, Earnest and I went to Cho Lon Oriental Market and Mekong Vietnamese Restaurant on 34th Street.
If I were to use one word to describe what I saw and heard today, it would be juxtaposition. There was Trang brand coffee sitting next to the Café du Monde chicory coffee on the shelf in the Cho Lon Oriental Market. A TV showed the Vietnamese version of a telenovella, complete with Vietnamese subtitles, in the corner of Mekong Vietnamese Restaurant, right next door.
We saw something in the refrigerated section that intrigued us. It was something spiky, about the size of a spaghetti squash, in a mesh bag. Kym asked the proprietor what it was. The fruit was durian. It tastes wonderful, but it stinks, he warned us. He even told us of a hotel he went to that warned guests not to bring this fruit into the building. Kym was bold and bought some of the packaged stinky-fruit cookies on the shelf.
Do you want Edible Beef Blood? Try the frozen food section. Dried Black Fungus? That would be in aisle one next to the rice noodles. Pocky? Now, Pocky was something I'd heard of. That's in the cookie and candy aisle.
Hello Kitty products sat next to Hello Panda items; none of my colleagues (including me) ever heard of Hello Panda.
In the restaurant, our friendly and helpful server had bleached blond spiky hair, pierced ears and multiple tattoos. Dennis and Earnest changed their initial orders based on our server's recommendations after we started ordering. I tried the Hot and Sour Soup; it was sweet and spicy, and tasted quite a bit different from the soup of the same name at many Chinese restaurants. I think the lemongrass added a different flavor; I liked it a lot.
A couple came into Mekong with their toddler. "Would you like a high chair?" the server asked. "No, a booster seat would be fine," was the reply. They ordered lunch. It came with scissors on the plate. As I got up to leave, I felt compelled to talk with them. "What kind of food did you order that needs scissors?" I asked. Both the husband and the wife laughed. "It's to cut up the noodles for our son." As I walked away from the table, I realized why they needed scissors. No knives are served with a meal in a Vietnamese (or any other Asian) restaurant.
Next time you're in St. Petersburg, I'd definitely recommend stopping by Cho Lon Oriental Market and Mekong Vietnamese Restaurant on 34th Street. Take your time while you're there and get to know the people. You'll be glad you did.