Today's post comes from guest blogger Eden Spodek. This post originally appeared on Eden's blog.


"The tools today are different, but the premise remains the same. Lie or spin the truth, and you will be found out. People will take you to task."
 – Gini Dietrich
I've known Gini for several years, am a loyal reader of her award-winning Spin Sucks blog and a regular listener of Inside PR, the podcast she co-hosts with Martin Waxmanand Joseph Thornley. I've watched her implement some relatively simple tactics – such as her take on the #Follow Friday meme, livefyre Q&As and, Gin and Topics – that can only be described as part of her brilliant marketing strategy. All the while, she's constantly sharing her "secret sauce" to digital communications and reputation management… for free! If we only only knew about how she applies her knowledge to her client work, well now we can, sort of – stick with this and you'll see.
Gini has an amazing ability to make everyone feel welcome while spreading her hospitality and enthusiasm across the social web. She's built an active community where members have developed friendships extending beyond the borders of Spin Sucks (the Blog). If I didn't know better, I'd think her blog was her full-time job. But I do. She helms a successful integrated marketing communication agency and among other things, is a sought after public speaker who has given the keynote address at conferences in Canada, the United States and Europe. When she put out a call looking for Spin Sucks Brand Ambassadors, I jumped at the chance to get involved and get an advance copy of Spin Sucks (the Book). That in itself was reward enough. Little did I know how much I'd enjoy being part of a wonderful subset of the Spin Sucks' community.
I've learned a lot from Gini. Not only from what she shares in her blog posts but also by watching what she does, how she does it and learning some of the thought processes behind her work through her public speaking engagements. I'm also a digital communications strategist who works and teaches in the online space and espouses the gospel of transparency, disclosure and anti-spin on a daily basis. So, much of what's written in Spin Sucks the book was familiar yet, there were still several actionable tips I learned.
If you're looking for a quick fix or a magic bullet to help market your business online, you're not going to find it here. However, if you're willing to invest the time and follow Gini Dietrich's secret sauce over the long haul, Spin Sucks: Communication and Reputation Management in the Digital Age is a must-read.
"Your competitors know the exact recipe to your secret sauce, but no one does it as well as you do. It's your secret sauce. It was created with your people, your thinking, your culture, your passion, and your vision."
Gini brings her personal voice and tone to Spin Sucks the book, the same as her blog readers have come to know and love. She's up front about telling you who the book isn't for – several times throughout the book, in fact – all the while reminding those who stick with her that this journey is a "marathon and not a sprint". Gini uses current examples to illustrate her points, including some case studies from her own client experience. This is more than theory folks; her secret sauce is based on actionable items she's implemented and measured! In each section, Gini starts with the "what" then uses examples to explain the "why". Unlike many business books, she also includes the "how-to's" right down to the tactical, technical details in an easy-to-follow manner. Some things, like Google algorithms may change – remember this is the web and social media we're talking about – but the importance of good writing, using common sense, being transparent, disclosing relationships and saying "I'm sorry" don't.
If you're new to Spin Sucks, you don't need to be a PR agency or big business in order to appreciate and follow Gini's approach. In fact, it's designed with small-to-medium businesses in mind and can be applied to any industry.
If you're like me, even though you've read the blog regularly, you may appreciate having a single reference document with additional information and insights you won't find online. Spin Sucks: Communication and Reputation Management in the Digital Age is short and easy-to-read but it makes you think. Plan to give yourself time to absorb the message and put the approach into practice.
Disclosure: Although I've purchased copies of Spin Sucks: Communication and Reputation Management in the Digital Age, I was given a review copy. Gini Dietrich has been a regular guest speaker for the Foundations in Digital Strategy and Communications Management Certificate program at U of T School of Continuing Studies where I'm a curriculum developer and instructor. I consult with one of the companies referenced in the book and the sock monkey is from Parkdale Novelty, a client.
What I'm reading…
Do you have seven seconds to spare today?
Please SHARE this photo and story from my friend Kourosh Zakeri. He's trying to win a contest with the photo, but even more importantly, he's trying to share his story. I've learned a lot from him in the two months we've been friends, and I think you will, too.
UPDATE April 14, 2014: Kourosh won the contest! Thank you for sharing his photo and story.
And if you have seventy seconds to spare, would you mind sharing this photo/story on a few of your friends' individual timelines, or in groups you participate in?
Thanks so much!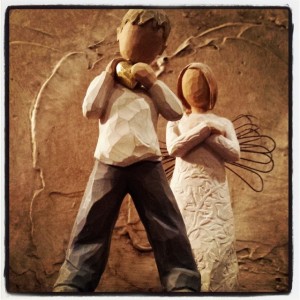 It's been almost two and a half years since I heard these horrific words from my husband.
"It's about Kyle. He had a seizure. He didn't make it."
Even typing those words brings tears to my eyes. (It's hard to type now.)
How on earth can a perfectly healthy 22-year-old graduating senior just collapse and die? (Medically speaking, we found out that he had acute heart failure, which basically tells us nothing.)
So many of my friends tell me that I am strong, or that they can't imagine how to go on after something like this. Well, I go on because I must. I have a loving husband and three other children that mean the world to me.
But some days — actually, nights — I totally melt down. I had one of those nights this week. It started with seeing something adorable and (usually) innocuous: a photo of the toddler child of a friend of Kyle's asleep on his dad on the sofa. I smiled at the sweet photo, and then . . .
One tear slipped down my cheek.
One turned to ten, then to thousands.
I posted a short update on Facebook.
Immediately, friends started supporting me. I can't tell you how much this helps. It's a ginormous amount. (Some have asked why I don't call someone when I feel like this. Simple answer: When I cry, I cannot speak. At all.)
I escaped to my bedroom and didn't even make it the whole way onto my bed. I looked like this angel statue.
And this time, my tears weren't silent. They were LOUD and searing on my cheeks. They felt like acid. I couldn't stop them, and I really didn't even want to. I emptied the rest of my tissue box and a whole travel pack of tissues. I have no idea how long I was in this state, but I guess it was as long as I needed to be. I slept hard that night, thank goodness.
The next morning? I had seriously puffy eyelids (I'll spare you that picture), and I went on.
UPDATE 3-31-2014: I have withdrawn from the Genghis Grill's 2014 Health Kwest, and I have made all posts about that contest private on my blog for the time being.
As someone who had taught public relations for more than two decades, I should have known better. But I got caught up in the excitement of being part of a contest, and I have neglected to provide full disclosure with every post/photo/video I have I uploaded as a constant in Genghis Grill's 2014 Health Kwest that the restaurant chain is providing me one free meal a day. And not making this disclosure goes against recent FTC guidelines. (There is wording about this in FanCorps, where we accept our daily "orders," but like many, I just clicked right past it without reading carefully.)
NOTE: I am not a lawyer, nor am I giving legal advice. I am just sharing my understanding of the guidelines.
So I am making that right now. I will go back and edit as much as I can to include a disclosure I created at the  cmp.ly website.
Here's how to create a disclosure of your own:
Go to http://cmp.ly and sign up for an account as an Individual Advocate.
Choose which type of compliance you need. For my participation in this contest, it's #3.

Add specific language for your circumstances. For me, I added "The author of the message that directed you to this page has the following material connection: the author was compensated (via a giftcard worth one meal a day) to promote Genghis Grill as part of its Health Kwest 2014 contest."

Then use the unique URL that Cmp.ly provides in everything you post that is based on being compensated. Mine is http://my-disclosur.es/HVNLJa .
Useful Resources
I thought I'd take a few minutes and pull together many of the social media tasks I've participated in as part of Genghis Grill's Health Kwest 2014.
For those of you who can't join us in person on Tuesday, September 16, or those who would just like to see the them, I have posted my slides for my breakout session at the Northwest Arkansas Business Women's Conference. If you view the presentation at SlideShare, you can see notes for each slide, too.
If you're participating in an all-day (or several hour) job interview, it's likely that you will be eating lunch or dinner with your interviewer(s). Here are just a few tips to help you succeed in this circumstance:
Brush up on the news. There will likely be some "casual" conversation during this lunch interview.
Use your best manners. (This should go without saying.)
Bring along a small notepad and pen. You may need to jot something down during the meal.
If you know ahead of time where you will be eating, review the restaurant's menu and choose two or three possibilities.
Order something from the middle price point on the menu.
Choose food that can be eaten with fork and knife, if possible. Avoid potentially messy food (like some sandwiches, soups and salads) and smelly food like onions and garlic.
Order something light or small. You will be doing a lot of talking during this meal.
Food allergies or sensitivities? Try to order something on the menu that you can eat without special preparation by the chef, if at all possible.
If rolls or bread are provided, tear off a small piece (what you will eat in a bit or two) and butter just that. (Do not butter the entire piece at one time.)
Choose something uncarbonated to drink, like water or iced tea.
Be exceptionally polite to the servers; how you treat them is a good sign of how you may treat employees or co-workers.
Avoid overly personal conversation. Don't say anything you would not say in the interviewer's office.
Leave your cell phone in your pocket or purse. Don't take it out even if the interviewer takes his or hers out. (The only exception to this is if you and the interviewer need to look at your calendars for planning a follow-up interview.)
And bring a dental floss pick with you; you can use this if needed when you are in the restroom. It's better to have it and not need it, than to need it and not have it.
Always remember this one key tip: don't let your guard down. Even though the setting may seem more informal during a meal, you are still being interviewed and evaluated.
Do you have other tips you'd recommend? Or a story about a lunch interview that went exceptionally well . . . or terribly?